Heidi M. Szpek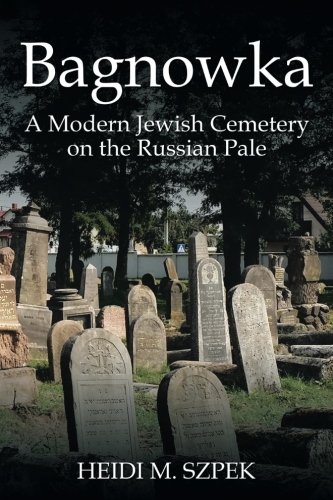 Bagnówka: cmentarz żydowski Nowoczesna rosyjskiego Pale
Heidi M. Szpek Emerita profesor Central Washington University (USA)
Firma iUniverse Press, 2017.
W ostatniej dekadzie XIX wieku, tradycyjny cmentarz żydowski został założony w małej miejscowości Bagnówka, usytuowany w pobliżu miejskiego centrum Białegostoku w obecnej północno-wschodniej Polsce. Choć regulowane następnie carskiej Rosji, Białystok nadal inspirowany naukami Tory, Talmudu i większej społeczności rabinicznej. Jednak był to także czas przewrotu społecznego jako fala nowoczesności skokowej w całej Europie Wschodniej, a wraz z nią różnorodności religijnej, rewolucja, a bardziej świeckim sposobem życia, który będzie również wpływ na strukturę i kulturę materialną tego cmentarza. Bagnowka: A Modern Cmentarz żydowski w rosyjskim Pale opowiada o tym cmentarzu od jej powstania w 1892 roku do jego zniszczenia w czasie i po Zagładzie, a także jego niedawne przywrócenie w toku. Opierając się na epitafiów Bagnówka i nagrobek sztuki, archiwaliów, okres gazet, zdjęciami i innymi informacjami, Heidi M. Szpek ujawnia, jak cmentarz służy jako odbicie niegdyś tradycyjnym świecie żydowskim uderzony nowoczesności.
Dostępne od: http://bookstore.iuniverse.com/ ; http://www.amazon.com; i http://www.barnesandnoble.com
Heidi M. Szpek jest prof Emerita Religioznawstwa w Central Washington University. Obecnie służy również jako tłumacz, epigrapher i konsultant Centrum Edukacji Obywatelskiej Polska-Izrael (Polska), pomoc przy renowacji cmentarza żydowskiego Bagnowka w Białymstoku, Polska. Dr Szpek przyczynił artykuły na epitafiów żydowskich, dziedzictwa żydowskiego oraz Biblii Hebrajskiej do czasopism naukowych i magazynu żydowskiej w Internecie.
http://www.jewishmag.com/2015/lions_of_bagnowka_folk_art_
in_jewish_cemetery_poland/lions_of_
bagnowka_folk_art_in_jewish_cemetery_poland.htm
Heidi M. Szpek is Chair and Professor of Religious Studies in the Department of Philosophy & Religious Studies at Central Washington University, Ellensburg, Washington, USA (www.cwu.edu/philosophy).
Dr Szpek's areas of specialization include Hebrew Bible, Eastern European Jewish studies, and Holocaust Studies.
For more information, please visit her webpage www.cwu.edu/~szpekh.
Jewish epitaphs from Białystok, 1892–1902: embracing the spirit of Dubnow
East European Jewish Affairs, Volume 42/2 (2012): 129-158
http://www.tandfonline.com/doi/abs/10.1080/13501674.2012.699208
Jewish epitaphs from Białystok, 1905–6: towards mending the torn thread of memory
East European Jewish Affairs, Volume 41/1-2 (2011): 1-23
http://www.tandfonline.com/doi/abs/10.1080/13501674.2011.587650
Here are more of my articles from an online journal The Jewish Magazine (all online):
"The Tombstone Engraver." The Jewish Magazine. September 2011 No. 158
http://www.jewishmag.com/158mag/tombstone_engraver/tombstone_engraver.htm
"What a Thunderous Voice: Remembering Pesach Kaplan." The Jewish Magazine.
August 2011 No. 157
(http://www.jewishmag.com/157mag/pesach_kaplan/pesach_kaplan.htm

"I Will Never Forget You": Letters from Jasionowka – 1887." The Jewish Magazine.
December 2010 No. 149
"August with Chaim." The Jewish Magazine. August 2010 No. 146
(european_synagogues.htm)http://www.jewishmag.com/146mag/old_european_
synagogues/old_
"Can Ants Say Kaddish?" The Jewish Magazine. July 2010 No. 145 (http://www.jewishmag.com/145mag/polish_jewish_cemeteries/polish_jewish_
cemeteries.htm)

"The Mikveh Beside the Nurzec River: A Place of Remembrance."
The Jewish Magazine. April-May 2010 No. 144 (http://www.jewishmag.com/144mag/european_mikva/european_mikva.htm)
"In Whispers, He Spread Torah." The Jewish Magazine. April-May 2010 No. 143
(http://www.jewishmag.co.il/143mag/bialystok_poland_bagnowka_jewish_cemetery/
bialystok_poland_bagnowka_jewish_cemetery.htm
"Esther of Bialystok." The Jewish Magazine. February 2010 No. 141 (http://www.jewishmag.co.il/141mag/esther_bialystok/esther_bialystok.htm)
"In the Bloodshed of Their Days." The Jewish Magazine. January 2010 No. 140 (http://www.jewishmag.co.il/140mag/holocaust_bloodshed/holocaust_bloodshed.htm)
http://www.jewishmag.com/149mag/jasionowka_poland/jasionowka_poland.htm)